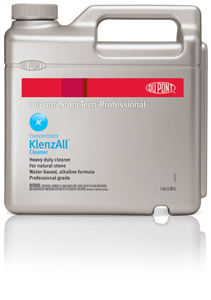 StoneTech KLENZALL Alkaline Tile & Grout Cleaner

(concentrated)
Power through stubborn grease and grime with this professional grade cleaner!
1 Quart (concentrate); 1 Gallon (concentrate)
$11.89 –$35.65
Item No.: D12612328
attribute_pa_size: gallon-concentrated
Item No.: D14435661
attribute_pa_size: quart-concentrated
Qualifies For
StoneTech KLENZALL alkaline cleaner for tiles is a professional strength formulation that cuts through grease, oils and grime build-up on natural stone such as marble, granite, limestone, travertine, slate, sandstone, ceramic and porcelain tile and grout; and masonry and concrete.
StoneTech Alkaline Grout Cleaner

Cleans and removes tough grease, oil and food stains.

StoneTech Alkaline Grout Cleaner

is Safe on stone, will not etch.
Just mix with warm water and apply with sponge or mop (see instructions).
Professional strength, alkaline formula.

StoneTech Alkaline Grout Cleaner

removes StoneTech Professional High Gloss and Semi-gloss Finishing Sealers