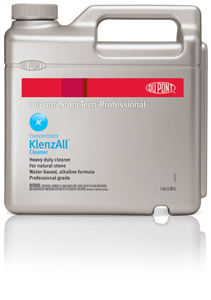 StoneTech KLENZALL Alkaline Tile & Grout Cleaner

(concentrated)
Power through stubborn grease and grime with this professional grade StoneTech grout cleaner!
1 Quart (concentrate); 1 Gallon (concentrate)
$11.89 –$35.65
Item No.: D12612328
attribute_pa_size: gallon-concentrated
Item No.: D14435661
attribute_pa_size: quart-concentrated
Qualifies For
StoneTech KLENZALL alkaline cleaner for tiles is a professional strength formulation that cuts through grease, oils and grime build-up on natural stone such as marble, granite, limestone, travertine, slate, sandstone, ceramic and porcelain tile and grout; and masonry and concrete.
The StoneTech KLENZALL grout cleaner for tiles is an extremely powerful and potent strength formulation which can help in the removal of grime, grease and oil build-up on different types of natural stone surfaces such as granite, marble, limestone, slate, travertine, ceramic, porcelain tile, sandstone and grout. It can also be used for concrete and masonry.
The StoneTech KLENZALL alkaline cleaner works as a concentrated solution which can work as an alkaline de-greaser. With the help of this alkaline tile cleaner, it is possible to remove soil, grease, oils, algae and mildew stains from heavy buildup areas which can be rather difficult to manage. The solution can be also used for removing floor sealers and floor waxes. Its ability to remove even the toughest grease and oil components make it one of the best in the industry.
The high strength, alkaline formula has been developed after much research on the part of our chemical engineers which definitely make StoneTech KLENZALL alkaline cleaner reliable and efficient. The great thing about the StoneTech grout cleaner is that it is perfectly safe for being in different types of stone surfaces and it is definitely not going to etch or leave marks in it. The formula is also quite easy to use. All you need to do is simply mix it with lukewarm water and then apply it by using a mop or sponge. The StoneTech Alkaline Grout Cleaner can also remove StoneTech Professional High Gloss and Semi-gloss Finishing Sealers.
The alkaline grout cleaner formula has been repeatedly tested on marble, natural stone, granite, brick, limestone, saltillo, slate, ceramic, masonry, porcelain grout and various kinds of other flooring surfaces that are generally known for their durability. You can achieve excellent results whether you choose to use it for your regular day to day cleaning or want to get rid of tough stains every once in a while.
If you are looking to clean the stone surfaces of your home or commercial building on a regular basis, you can mix 5 to 6 ounces of the formula in every gallon of water to achieve the best results. In case you are thinking of getting rid of tougher stains and difficult buildups, combine 1 part of the Alkaline Cleaner with 3 parts of water. It has been proven time and again that StoneTech KLENZALL grout cleaner is always able to deliver the best results when used regularly.
StoneTech Alkaline Grout Cleaner

Cleans and removes tough grease, oil and food stains.

StoneTech Alkaline Grout Cleaner

is Safe on stone, will not etch.
Just mix with warm water and apply with sponge or mop (see instructions).
Professional strength, alkaline formula.

StoneTech Alkaline Grout Cleaner

removes StoneTech Professional High Gloss and Semi-gloss Finishing Sealers