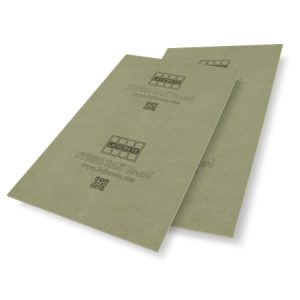 Laticrete HYDRO BAN® Board

(sheets sold in pack quantities)
HYDRO BAN Board® is a lightweight easy to handle and ready to tile wall board designed to be used in bonded tile or stone installations.
Item No.: 9450-0112-2
attribute_pa_size: 1-1-2x3x5
Item No.: 9450-0012-2
attribute_pa_size: 1-2x3x5
Item No.: 9450-4812-2
attribute_pa_size: 4x8ftx0-5in
Item No.: 9450-0100-2
attribute_pa_size: 1x3x5
Item No.: 9450-0058-2
attribute_pa_size: 5-8x3x5
Item No.: 9450-0014-2
attribute_pa_size: 1-4x3x5
Item No.: 9450-0200-2
attribute_pa_size: 2x3x5
HYDRO BAN Board® is a lightweight easy to handle and ready to tile wall board designed to be used in bonded tile or stone installations. It is made with a high-density, waterproof extruded polystyrene core and a reinforced, waterproof membrane on both sides to give triple protection from water and vapor intrusion. Available in a variety of thicknesses from ¼" to 2" (6 mm to 50 mm) the HYDRO BAN Board can be used on walls, floors, ceilings, and in many installations requiring dimensionally sound and stable substrates as well as in steam rooms and steam showers. HYDRO BAN Board does not contain cement, fiberglass or paper products and will not cause itching or create messy cement debris during installation. No tab washers are required for floor and wall installations when using the ceramic coated HYDRO BAN Board Screws.
If you are working on an installation project that requires a substrate that is proportionally sound and balanced, you will certainly want to go with something that is not only reliable but easy to use as well. With Laticrete Hydro Ban Board, you will get just what you need – a proportionate, durable, lightweight construction panel of a rigid extruded polystyrene core, coupled with tough waterproof fleece coating on either side. It's not just their top-rated performance that has made these boards manufactured by Laticrete the most sought-after construction panels, their installation too, is a cakewalk.
Tile Pro Depot has a Laticrete Hydro Ban Board for sale in their online tile and stone installation products store. Available in an assortment of thickness ranging from ¼" to 2" (6 mm to 50 mm) you can easily use these hydro ban boards on your showers, walls, ceilings, and in many such other installation projects that require durable substrates with perfect measurement. Hydro Ban boards for sale at Tile Pro Depot can easily be used in your showers and steam rooms as it prevents the vapor from leaking out elsewhere. According to a spokesperson of Laticrete, "Our HYDRO BAN Board are fully tested, and each of our sheets surpasses the basic prerequisites for IAPMO PS 106 for Shower Receptors and Shower Kits.  We do also focus on meeting the requirements for ASTM E96 Method D to ensure that our boards can safely be used in steam room and showers."
Laticrete Hydro Ban Board installation does not require any tab washers. They can simply be installed using ceramic coated hydro ban board screws. This is by far one of the biggest benefits as tab washers are more inclined to break, crack or split, leading to more infringements, which means compromising on the reliability of your building structure.
As one of the top-rated sites catering to the specific needs of tile installation professionals, Tile Pro Depot offers hydro ban boards for sale in its online store. The cost of these boards out here in Tile Pro can range anywhere between $27.47 -$59.04/board depending on the size of the board you choose. Before purchasing the Laticrete Hydro Ban board as per your requirements, you can check out the features, the benefits, and the technical data associated with the same. And as for Hydro Ban Board installation is concerned, there are comprehensive how-to videos on the site that lets you learn and understand the board installation processes and procedures.
Simple to cut and install with a utility knife, Laticrete Hydro Ban Boards are the most reliable and easy-to-use DIY solutions for your interiors that come with a lifetime system warranty.
If you're on the lookout for such sheets to meet your project requirement and specification, visit our online store at https://tileprodepot.com/laticrete-hydro-ban-board/ and get the sheet of your choice today!
Lightweight; easy to carry and transport
Advanced waterproof extruded polystyrene core
Heavy duty waterproof fleece membrane on both sides
Low perm rating for use in steam rooms and steam showers
Rigid and impact resistant panels
Contains no cement
Does not include fiberglass or paper ingredients
No tab washers required on floors and walls
Simple to cut and install with a utility knife
Part of the LATICRETE® Lifetime System Warranty*.