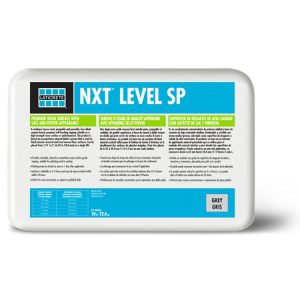 LATICRETE NXT® LEVEL SP
NXT Level SP is a pourable, high performing self leveling concrete overlay, primarily used to finish interior concrete slabs.
NXT Level SP is a medium/coarse-sanded, pumpable, and pourable, low alkali cement-based, premium self-leveling topping suitable as a high-strength wear surface or underlayment. The product is based on a proprietary mineral binder system that is used to finish interior
concrete and level uneven floor surfaces. Apply it over concrete and other types of sound substrates before polishing, installing coatings, or other flooring systems. Most floor covering adhesives that are suitable for concrete can be used on LATICRETE NXT Level SP.
Laticrete NXT Level SP is a revved-up, medium-coarse sanded pumpable, and pourable self-leveling overlay solution that is typically used for perfecting interior concrete slabs. Being a tough and intensified solution used in wear surfaces when polished or even for floor underlayment, NXT Level SP stands out as low to almost no maintenance, and a long-lasting solution with an alluring and abrasive salt-and-pepper look. Laticrete NXT Level SP is usually applied over concrete and solid substrates that are congruent with installing varnishes and other flooring products. With a unique capability of leveling even the most uneven floor surfaces, NXT Level SP can be used with most floor cover-up adhesives particularly designed for concrete. All you need to do is apply the solution over concrete and other substrates before polishing, coating installations, or other flooring systems.
Some of the most common uses of Laticrete NXT Level SP are:
The solution is ideal to be used in new construction.
The NXT Level SP can easily be used for repairing polished slabs.
Owing to its durable and low-maintenance wear surface, the Laticrete NXT Level SP solution can be used in public places like departmental stores, shopping malls, hotels, supermarkets, apartments, and buildings, and other high-traffic areas wherein durability, zero maintenance, and high-abrasion resistance is needed.
Laticrete NXT Level SP comes along with some unique advantages like:
They offer Offering a durable and attractive concrete surface suitable for polishing and/or coating.
The solution provides Providing an inorganic-based formulation that prevents the growth of mold or mildew.
It transforms Transforming rough and uneven concrete slabs and floors to a flat, smooth surface.
The surface on which the solution is applied The surface can be used within the next 2-4 hours of installation.
The wear surface can be bleached tinted using L&M™ Vivid Dye System.
The NXT Level SP solution works well with all kinds of flooring systems and floor covering adhesives.
Boasting about their latest self-leveling overlay solution, Elvis Torres, Laticrete Product Manager – Concrete Remediation said, "At Laticrete, our research and development team is always looking to create products that make people's lives easier. NXT Level SP flattens floors that can be walked on in as little as two hours and polished as soon as one day after application, providing minimal downtime for the facility, and following trades. Once cured, the concrete overlay can remain as is or quickly topped with flooring materials or coatings if another look is desired."
Tile Pro Depot now offers Laticrete NXT Level SP for sale in their online product store. Priced at $44.23 per container, I could not find the NXT LEVEL SP on our website. the factory-sealed containers are guaranteed to be of A-one quality for one whole year if they are stored off the ground in a dry area. However, high humidity will reduce the shelf life of the solution. Know more about the features and technical data of Laticrete NXT Level SP floor-leveling solutions.
Provides a durable, attractive and low maintenance cementitious wear-surface grade concrete overlay, suitable for polishing and/or installing floor coatings.
Transforms rough concrete to a flat and smooth surface perfect for a polished concrete look.
Surface can be tinted using LATICRETE® L&M™ VIVID DYE™ System to coordinate with interior finishes or color-scape branding designs.
Surface is walkable in 2 – 4 hours and may be open to wheel traffic within 24 hours at 70°F (21°C). 
Polishable to a finished wear-surface in as little as 24 hours. 
Pourable and pumpable – available in 50 lb. bags