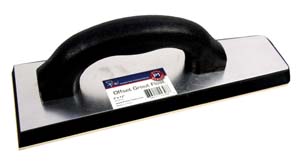 Primo Offset Grout Float w/ Aluminum Backing
Compare with more expensive professional grade brands! Buy quality and save!
Item No.: 45GFOA
Sorry, Temporarily Sold Out
Qualifies For
The Primo Offset Grout Float is designed with an offset handle for hard to reach areas such as under cabinet toe-kicks. Constructed from non-stick, gum rubber reinforced by an aluminum backing for increased durability and ease of application, the Primo Offset Grout Float will not separate and has edges designed to leave less grout behind and make clean-up faster and easier. Why pay more when Primo Grout Floats are made using the same processes and quality standards as more expensive brands. Primo Grout Floats are the result of over 40 years of tile tool innovation, design and production experience.
Offset handle for hard-to reach areas under cabinet toe-kicks, etc.
Aluminum reinforcing backing for maximum durability
Non-stick gum rubber ensure smooth application
Compact rubber will not absorb grout