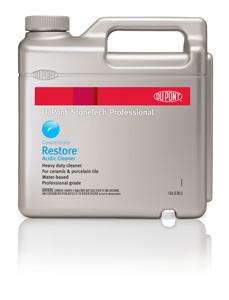 StoneTech RESTORE Acidic Cleaner

(concentrated)
Ideal for attacking tough, unsightly soap scum residue, hard-water deposits and efflorescence!
1 Quart (concentrate); 1 Gallon (concentrate)
$11.84 –$35.52
Item No.: D12447024
attribute_pa_size: gallon-concentrated
Item No.: D14446083
attribute_pa_size: quart-concentrated
Qualifies For
Highly concentrated, heavy duty acidic restoration cleaner that makes ceramic tile & grout look like new. Removes soap scum, hard water deposits, grout haze and efflorescence. Restore™ Acidic Cleaner breaks down even the toughest mineral-based stains and deposits. Suitable for use on ceramic tile, porcelain tile and grout, granite, slate and sandstone.
Renews tile and grout.
Removes soap scum on contact.
Removes rust.
Removes hard water stains and efflorescence.
Removes grout haze.
Use on porcelain and glass.
Use to etch marble and limestone.
Professional strength, acidic formula.