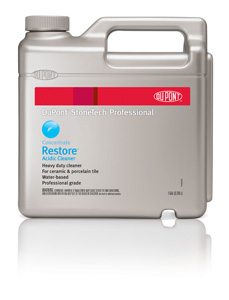 StoneTech RESTORE Acidic Cleaner

(concentrated)
StoneTech Restore Acidic Cleaner is ideal for attacking tough, unsightly soap scum residue, hard-water deposits and efflorescence!
1 Quart (concentrate); 1 Gallon (concentrate)
$11.84 –$35.52
Item No.: D12447024
attribute_pa_size: gallon-concentrated
Item No.: D14446083
attribute_pa_size: quart-concentrated
Qualifies For
StoneTech Restore Acidic Cleaner is highly concentrated, heavy duty acidic restoration cleaner that makes ceramic tile & grout look like new. Removes soap scum, hard water deposits, grout haze and efflorescence. StoneTech Restore™ Acidic Cleaner breaks down even the toughest mineral-based stains and deposits. StoneTech Restore Acidic Cleaner is suitable for use on ceramic tile, porcelain tile and grout, granite, slate and sandstone.
The StoneTech Restore Acidic Cleaner is a highly concentrated restoration cleaner with heavy duty acidic properties that can help in cleaning ceramic tiles and making them look as good as new. With the help of the StoneTech Restore cleaner, users can easily get rid of soap scum, efflorescence, hard water deposits and grout haze so that the ceramic tiles and grout look completely clean. The great thing about StoneTech Restore Acidic Cleaner is that it can even break down the toughest mineral-based deposits and stains which can deliver a complete cleaning result. The product is perfectly suitable for porcelain tiles and grouts, ceramic tiles, sandstone tiles, granite and slate.
Versatile, efficient and easy to work with, the StoneTech Restore Acidic Cleaner can renew the look and feel of the tiles and grouts, thereby making sure that they last for a longer duration of time. Soap scum is something that can be difficult to remove by conventional means. However, the StoneTech Restore Acidic Cleaner has been proven time and again to be very effective for the removal of such soap scum easily. The cleaner solution can also remove rust from the surface of the material which is a major bonus. With the help of this cleaner, it is even possible for users to remove grout haze with a high level of success.
Once the StoneTech Restore Acidic Cleaner solution is applied on the working surface, it is possible to even remove efflorescence and hard water stains which can be extremely stubborn and difficult to remove. The cleaner can be used for etching limestone, travertine and marble. It can also be used on glass and porcelain. The efficiency of the StoneTech RESTORE Acidic Cleaner has definitely garnered widespread positive reviews for the high level of performance that it can provide.
The best way to start working with this heavy duty acidic cleaner is to check the solution over a small and inconspicuous area so as to determine the efficiency of the solution, the desired results and ease of use. The surfaces that are to be cleaned with the StoneTech Restore Acidic Cleaner must be first vacuumed or swept properly so that all traces of loose debris are removed. It is important to note that heavy duty mixture of this solution might darken certain surfaces. The areas that are treated with StoneTech Restore Acidic Cleaner must also be rinsed properly with water after the main procedure.       
Features of StoneTech Restore Acidic Cleaner
Renews tile and grout.
Removes soap scum on contact.
Removes rust.
Removes hard water stains and efflorescence.
Removes grout haze.
Use on porcelain and glass.
Use to etch marble and limestone.
Professional strength, acidic formula.