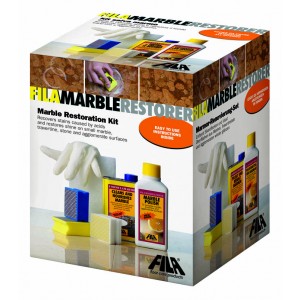 FilaMARBLE RESTORER Marble Restoration Kit
FilaMARBLE RESTORER Marble Restoration Kit is ideal for removing those stubborn acid etch stains and restoring the shine on polished marble, travertines, limestones and agglomerate surfaces!
Qualifies For
FilaMARBLE RESTORER Marble Restoration Kit is formulated specifically for restoring small areas marked by acid etch stains or other agents on marble, travertine, and polished limestone surfaces. FilaMARBLE RESTORER is ideal for restoring stained areas and surfaces dulled by wear and tear on kitchen and bathroom counter tops, tables, steps and window sills. FilaMARBLE RESTORER Marble Restoration Kit contains all that is needed for surface restoration including 3 scouring pads, a polishing pad, marble polish (6.8 fl oz.), marble finishing polish (8.5 fl oz) and gloves.
Marble surfaces are beautiful to look at. They are expensive, stylish and a value-booster in real estate. But for all their endless positive qualities, all marble surfaces have one downside. They are a magnet to stains and spots. Although temporary and perfectly fixable, these stains are unsightly and therefore, a put-off. Marble surfaces constantly demand your attention and care. But worry not because the Fila Marble Restorer Marble Restoration Kit is all you need to keep up the shine and polish of the marble surfaces inside your house round the year.
A stain remover, the Fila Marble Restoration Kit is a marvelous product where marble floors are concerned. It can help eliminate stains and spots of the most stubborn kinds in just a sweep. But stains are not the only reason you want to keep this product handy at all times. The Fila marble restorer is also a great marble polish. Just as easily as it removes years of strong stains, it also restores the shine and polish in marble tops, no matter how old. What's better, it works not just on marble floors, but on all marble-made surfaces. Aside from marble, this restoration kit is a great fit for cleaning surfaces made of limestone, agglomerate and travertines.
A product complete with a set of kits and a step-by-step guide, the Fila Marble Restorer works to remove stains, smoothen, polish and restore the nature shine and luster of marble and other stone surfaces. Inside the box, you will find a metallic pad, a couple of white resin pads, three resin pads, blue and a white polishing pad. That aside, there are marble polish and finishing polish. Lastly, the kit contains gloves to use when handling the product.
The Advantages of Choosing the Fila Marble Restorer Marble Restoration Kit
The Fila Marble Floor Restoration Kit is a great product. It is packed with advantages that set it apart from products of its kind in the market. Below are the specific benefits it offers it users.
The Fila Marble Restoration Kit is a great product to reinstate small surfaces. Whether it's made of marble, limestone, agglomerate or travertine, it can clean the surface off all stains and spots, even the acid etched ones.
The product is also a great cleaner of atmospheric agents that often stain surfaces from prolonged exposure.
The Fila Marble Polishing Kit is the perfect product for restoring shine and eliminating stains from kitchen tops, bathroom tops, stone steps, window sills and stone tables.
It especially removes stains, but it can also be used on surfaces where there is no stain. It is a great remover of dullness and greasiness which set upon stone surfaces from prolonged use and everyday wear and tear.
The product is ideal for use on all polished surfaces made of terrazzo.
The Fila Marble Restoration Kit is not the right product for granite surfaces. It is also not fit for polishing quartz-resin agglomerates. The kit should not be used on any type of stones that is naturally resistant to acids.
Restores small surfaces made of marble, travertine stone and polished limestone marked by acid etch stains or atmospheric
agents.
Ideal for restoring kitchen and bathroom tops, tables, steps and window sills.
Removes dullness caused by wear and tear.
Works on all types of polished terrazzo surfaces.
Does not work on granite, quartz-resin agglomerates or naturally acid-resistant types of stone