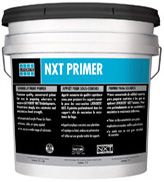 Laticrete NXT PRIMER
NXT LEVEL PRIMER provides a secure substrate bond for NXT LEVEL and NXT LEVEL PLUS self-leveling products!
Pails (1 Gal; 5 Gal)
$ 71.41 – $ 274.07
Item No.: 0905-0401-2
attribute_pa_size: 1-gal-pail
Item No.: 0905-0005-2
attribute_pa_size: 5-gal-pail
Qualifies For
NXT™ PRIMER is a concentrated premium quality, water-based primer designed to be applied prior to the installation of NXT self-leveling underlayments. NXT PRIMER penetrates deeply into substrates and maximizes bond strength.
Multi-purpose and can be used on a wide range of substrates.
Easy to use; apply with broom, roller, or spray