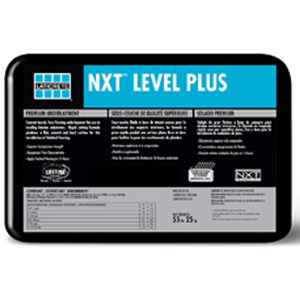 Laticrete NXT LEVEL

(50 lb bag/Grey)
Use Laticrete NXT LEVEL to ensure a flat smooth hard surface required for your large format tile and stone installations! Level up to 3" thick in a single pour!
Plastic Bag (50lbs)
$ 29.49
Item No.: 0900-0050-21
Qualifies For
Laticrete NXT LEVEL is a cement-based underlayment for use in leveling interior substrates. Laticrete NXT LEVEL produces a flat, smooth and hard surface for the installation of finished flooring. Laticrete NXT LEVEL can be placed from 1/8–3″ (3–76 mm) in a single pour. NXT LEVEL PRIMER is recommended to ensure a secure substrate bond particularly when installing self- leveling products on gypcrete based substrates.
Let us understand underlayment in a little more detail before we look into the features of this amazing NXT LEVEL product from Laticrete. For most tile installations, cement based underlayment is a common practice, but especially so for floor tiles. A well placed layer of underlayment provides an extra layer over the subfloor on which the tiles are placed. It adds stiffness to the tiled surface and therefore helps to prevent cracking. Usually a thinset mortar is placed over the substrate, using a set of putty knives and margin trowels. Once the mortar has been uniformly applied, the cement based underlayment is then applied.
Coming to the Laticrete NXT LEVEL, it is easily pumpable and pourable, making your job easier. In a single application, you can take the level up to 3 inches thick. There are no organic ingredients in this product. So you needn't worry about the onset of mildew or mold. It is a surface that is very suitable for almost every type of floor finishing. This product is also compliant with ASTM F2170 standards. That is why it can be applied directly over concrete of RH up to 95%. Here are some product specifications of the Laticrete self leveler NXT LEVEL.Like we said earlier, there is a wide variety of substrates on which it can be used. Whether it is concrete or vinyl tile, or whether it is cement terrazzo or exterior glue plywood, NXT LEVEL works equally well. The product is of grey colour, and you can buy it in 50 lbs. bags, weighing 22.7 kgs. Depending on the thickness of the overlay you use, there could be different coverages possible. For a 3 inch layer, for example, you can get a coverage of almost 2 ft2.
In order to get the best benefits from this wonderful product, there are certain things you should keep in mind. For example, it isn't a good idea to install it over particleboard, asbestos, or insulating concrete. In case you are planning to use it in a place where the temperatures are very low, then do read the instruction sheet carefully or ask the seller before buying. The same precaution is needed for places where the temperatures could be very high. You get a guaranteed shelf life of 1 year for this product. But in order to get that shelf life completely, it should be stored in a dry place, preferably off the ground (by placing it on elevated wooden boards etc.).
Features of Laticrete NXT LEVEL
Laticrete NXT LEVEL is Pourable and pumpable
Level up to 3" thick in a single application
Inorganic; will not contribute to mold/mildew growth
Suitable surface for most finished floor goods
Laticrete NXT LEVEL can be applied directly over concrete testing at RH of 95% or less per ASTM F2170