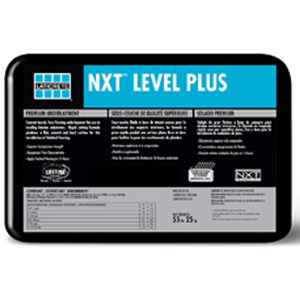 Laticrete NXT LEVEL

(50 lb bag/Grey)
Use NXT LEVEL to ensure a flat smooth hard surface required for your large format tile and stone installations! Level up to 3" thick in a single pour!
Plastic Bag (50lbs)
$23.15
Item No.: 0900-0050-21
Qualifies For
NXT™ LEVEL is a cement-based underlayment for use in leveling interior substrates. NXT LEVEL produces a flat, smooth and hard surface for the installation of finished flooring. NXT LEVEL can be placed from 1/8–3″ (3–76 mm) in a single pour. NXT LEVEL PRIMER is recommended to ensure a secure substrate bond particularly when installing self- leveling products on gypcrete based substrates.
Pourable and pumpable
Level up to 3" thick in a single application
Inorganic; will not contribute to mold/mildew growth
Suitable surface for most finished floor goods
Can be applied directly over concrete testing at RH of 95% or less per ASTM F2170