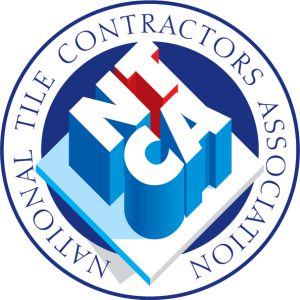 As a company founded with the mission to provide contractors with quality products and responsive service, Tile Pro Depot wants to dedicate our first blog to the "Voice of Tile Contractors", the National Tile Contractors Association. The NTCA is a leader in pulling together different industry players including contractors, distributors, and manufacturers to forge consensus on establishing standards and emphasizing the need for education and training thereby making our industry stronger.
NTCA President Jim Woelfel convincingly makes the point about the need for standards in his President's Letter (Tile Letter, December 2015) where he states: " …, we must follow standards to make sure our installations will last for years to come. This is especially important as the luxury vinyl manufacturers are now specifically targeting ceramic tile and the installation issues that occur. If we continue to have these types of installation issues and failures we will lose market share to these products. That is something that will affect all of us in shrinking our opportunities to install ceramic tile."
Bart Bettiga, NTCA Executive Director further points to the importance for standards with the advent of new innovations that are transforming the industry. One such innovation is the introduction of very large and very thin porcelain tile. While the potential for this innovation cannot be denied, Bart writes in the Tile Letter (Nov 2015/Jan 2016) that as exciting as the introduction of thin porcelain tiles (TPT) is, "… this same innovation is creating our greatest challenge as well, as we swiftly have to develop standards for these products and properly communicate this information to the tile industry." Bart further states: "As of today there is NO American industry standard established or adopted by either the American National Specifications Institute (ANSI) or the Tile Council of North America (TCNA)" for TPT installation. Bart stresses the importance to the contractor community of working closely with manufacturers and distributors when new technology is introduced to establish standards and provide opportunities for training.
The NTCA, along with the TCNA and Ceramic Tile Education Foundation (CTEF), has led the way in organizing these contractor training opportunities. By partnering with manufacturers and distributors, the NTCA hosts the NTCA Tile & Stone Workshops, hands-on contractor training sessions conducted a couple times each month at distributor locations across the country. These well attended workshops are incredibly informative with hands-on demonstrations of industry recommended installation methods and specific product application techniques. The NTCA Tile & Stone Workshops form the foundation for much needed contractor training and eventually, contractor certification that are vital to keeping the US tile industry robust.
We at Tile Pro Depot enthusiastically support the outstanding work the NTCA does for our industry and, as a distributor, commit to building strong relations with our contractor customer community. The value of this was very clearly expressed by Jim Woelfel in his President's Letter (Tile Letter, Jan 2016): " In short, tile contractors need to develop and cultivate good solid relationships with suppliers/distributors, in return these suppliers/distributors must do their job to put out the best material possible to us tile contractors."
Until next time.