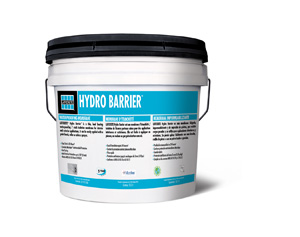 Laticrete HYDRO BARRIER PLUS Waterproofing Liquid

(3.5 gal pail)
Laticrete HYDRO BARRIER Waterproofing Liquid is Ideal for waterproofing large areas where a durable versatile and economical product is required!
Qualifies For
Laticrete HYDRO BARRIER PLUS Waterproofing Liquid is a thin, load bearing, self-curing liquid rubber polymer which can be easily applied to form a flexible seamless waterproofing/anti-fracture membrane. HYDRO BARRIER can be used on interior and exterior, horizontal or vertical surfaces and is approved by IAPMO for use as shower pan liner. Laticrete HYDRO BARRIER waterproofing requires the use of fabric in the coves and corners or change of plane for waterproofing applications only.
The Silent Killer for Concrete Structures
It is said that for concrete structures, raging winds or fearsome earthquakes might not be as much of a risk as water is. And when we mention water it is not rain that we are referring to. But the slowly seeping water that goes through concrete structures slowly over days and winds, weakening it gradually. That is why waterproofing measures are one of the most important parts of any construction project. The most common method that has traditionally been used is to mix some waterproofing compounds in the concrete mortar. But we have come up with an even better solution.
The Tile Pro Solution
One of our most popular waterproofing products is the Laticrete HYDRO BARRIER waterproofing liquid. It is a very thin liquid rubber polymer membrane which forms a waterproof fracture membrane. The most common location for the Laticrete HYDRO BARRIER installation is in the liner of shower pans. It is possible to use this product in both interiors and exteriors of surfaces which could be either vertical or horizontal. The most popular uses of the Laticrete HYDRO BARRIER is in places which are moist or wet most of the time, like swimming pools, fountains, and other water-containing installations. You could also spot a Laticrete HYDRO BARRIER installation in shower pans, tub surrounds, spas, and hot tubs. We would also recommend its use in places like food processing areas, kitchens, or terraces/balconies over unoccupied spaces.
Product Benefits
Once the curing has been completed, it becomes a really thin layer, and at the same time it can also be a load bearing structure. It exceeds the minimum requirements of standard codified regulations like ANSI A118.10 and A118.12, and is also compliant with the 'Extra Heavy Service' levels of TCNA performance levels. It provides microbial protection which is very useful in areas which are usually moist. The user can apply the versatile Laticrete HYDRO BARRIER in a wide variety of substrates. This would include the conventional substrates like concrete, brick masonry, mortar beds, plaster on one hand, and also Gypsum Wallboard, Cement Terrazzo, Ceramic tiles, Glue Plywood, Backer Board etc. as well.
Drawbacks
It is instructive to be aware of some drawbacks of a Laticrete HYDRO BARRIER installation. It does not bond with some surfaces including Masonite and particle boards.   If you need a waterproofing or anti-fracture fabric, you would need to buy it separately.
Interior and exterior;
Suitable for swimming pools, fountains, water features, shower pans, stalls, and tub surrounds
Industrial, commercial and residential
Laticrete HYDRO BARRIER Waterproofing Liquid allows for flood testing in 24 hours.* (Allows foot traffic in 4–6 hours)
Thin; only 0.020–0.030″ (0.5–0.8 mm) thick when cured.
Changes in color from a light blue to darker blue when cured.
Anti-fracture protection of up to 1/8″ (3 mm) over shrinkage and other non-structural cracks.
Extra Heavy Service rating per TCNA performance levels (RE: ASTM C627 Robinson Floor Test).
IAPMO approved; Exceeds ANSI A118.10 and A118.12 (water proofing and crack isolation standards).
Microban® antimicrobial protection from mold and mildew protection.
Safe—no solvents and non-flammable.
* When cured 70°F (21°C) or higher at 50% RH lower temperature at higher RH will require long cure times.