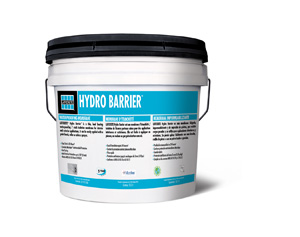 Laticrete HYDRO BARRIER Waterproofing Liquid

(3.5 gal pail)
Laticrete HYDRO BARRIER Waterproofing Liquid is Ideal for waterproofing large areas where a durable versatile and economical product is required!
Qualifies For
Laticrete HYDRO BARRIER Waterproofing Liquid is a thin, load bearing, self-curing liquid rubber polymer which can be easily applied to form a flexible seamless waterproofing/anti-fracture membrane. HYDRO BARRIER can be used on interior and exterior, horizontal or vertical surfaces and is approved by IAPMO for use as shower pan liner. Laticrete HYDRO BARRIER waterproofing requires the use of fabric in the coves and corners or change of plane for waterproofing applications only.
Interior and exterior;
Suitable for swimming pools, fountains, water features, shower pans, stalls, and tub surrounds
Industrial, commercial and residential
Laticrete HYDRO BARRIER Waterproofing Liquid allows for flood testing in 24 hours.* (Allows foot traffic in 4–6 hours)
Thin; only 0.020–0.030″ (0.5–0.8 mm) thick when cured.
Changes in color from a light blue to darker blue when cured.
Anti-fracture protection of up to 1/8″ (3 mm) over shrinkage and other non-structural cracks.
Extra Heavy Service rating per TCNA performance levels (RE: ASTM C627 Robinson Floor Test).
IAPMO approved; Exceeds ANSI A118.10 and A118.12 (water proofing and crack isolation standards).
Microban® antimicrobial protection from mold and mildew protection.
Safe—no solvents and non-flammable.
* When cured 70°F (21°C) or higher at 50% RH lower temperature at higher RH will require long cure times.