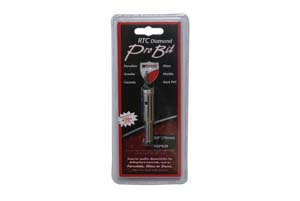 RTC Hole Shot Dry Series Diamond Bits
Dry cut up to 30 holes without water!
Kit contains: 5 drill bits (2x1/4"; 5/16"; 3/8"; ½"), Suction Drill Guide, Carrying Case
$ 11.40 – $ 13.11
Item No.: HSHS12D
attribute_pa_size: 12-12mm-bit-2
Item No.: HSHS14D
attribute_pa_size: 14-6mm-bit-2
Item No.: HSHS38D
attribute_pa_size: 38-10mm-bit-2
Item No.: HSHS516D
attribute_pa_size: 516-8mm-bit-2
Qualifies For
The 6 piece RTC Hole Shot Dry Hole Saw & Drill Kit requires no water and are the latest in Vacuum Brazed Diamond Technology and features an anti-spin hex shaped shank and petroleum wax filled cooling in the core. The RTC Hole Shot Dry Hole Saw Kit easily cuts through a variety of material such as hard porcelain, quarry tile, slate, ceramic, marble, travertine and granite and offers bit sizes that are ideal for installing grab bars, towel racks and shower door installations. Can be used with any handheld drill (800-2500 rpm) or drill press.
For use when water is limited or not an option
Utilizes the latest in Vacuum Brazed Dry Diamond Technology
Diamond bits can drill up to 30 holes without water
Easily drill through a variety of tile and stone including porcelain and granite
Bits sizes ideal for installing grab bars, towels racks and shower doors
Includes suction drill guide for more accurate placement
Individual replacement bits sold separately