When installing tile, you need to have the right tools in order to do the best job. But, with so many different tile types, sizes, and installation areas it can be difficult to determine all of the proper tile installation tools needed for your specific job.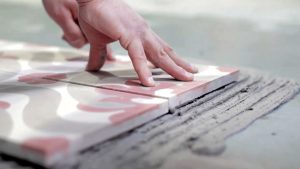 Some jobs require special saws, while others require no saws at all (if you're lucky and your space fits your tile perfectly). Some projects take days and some a matter of a couple of hours. To save you time and the headache of researching for yourself, we've put together a list of the most commonly used tools for tile installation.
Dust masks: for protecting yourself from inhaling tile dust while cutting tile
Safety glasses: for protecting the eyes from dust and other debris while cutting or installing tile
Knee pads: for cushioning your knees to allow for a more comfortable install
Measuring tape: to measure tile accurately and precisely
Level: to ensure tiles are straight and aligned properly
Tile cutter, nipper, and scorer: used for smaller jobs cutting jobs to make rectangular cuts
Wet saw or manual tile saw: used for cutting tile accurately to fit around fixtures and edges, makes a large job of cutting go by quickly
Underlayment: backerboard or uncoupling mats to provide an acceptable bonding surface for the thinset
Thinset: used to adhere tiles to walls and flooring Put thinset before grout
Trowel: used for evenly dispersing thinset. View our trowel blog post to select the best trowel for your particular job.
Grout: filling powder used between tiles to fill the joints
Grout float: used to spread grout into the joints
Tile spacers: used to space tiles accurately before applying grout
Sponge: used for wiping away excess grout
Caulk: used in wet-room tile installations to seal out moisture
Mixer: used to mix together thinset or grout
Dependent on the job, you may not need some of these tools – like caulk – if you're not installing tile in a bathroom or other wet area, like a pool patio. Some projects may require additional tools, like a specialized saw for specific tile cuts and more intricate tile work. This list is to serve as a base, simply to help you begin to select tile installation tools. Feel free to add or take away what you don't need for your particular tile job.
While you can certainly install tile on your own, the job goes by much quicker when you have assistance. Having extra labor to help you prep the floor and install the underlayment is a big help and makes the job go by much quicker. Extra labor is essential in hotter months – many hands help ensure the tile is set before the thinset begins to skin over.
At Tile Pro Depot, we know having the right, quality tools make your job easier and allows you to achieve fantastic results. That's why we only provide the best possible tools for our customers. We have the tools you need for every tile job you can imagine.
Visit our website to place an order and to view our wide selection of products. If you have any questions, feel free to contact us online or by phone at 844.751.2625.