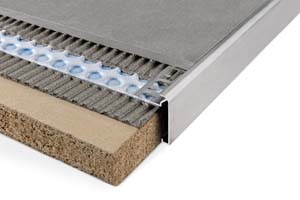 Prodeso PROTOP Aluminum Countertop Edge Trim
The elegant solution for finishing tiled countertop edges!
1 pc/pack (Length 8lf; Tile height; 3/8", 1/2")
$ 31.31 – $ 42.40
Item No.: PCTAA 10
attribute_pa_color_finish: satin-silver
Item No.: PCTBT10
attribute_pa_color_finish: polished-titanium
Item No.: PCTBC 10
attribute_pa_color_finish: polished-chrome
Item No.: PCTAA 125
attribute_pa_color_finish: satin-silver
Item No.: PCTBT 125
attribute_pa_color_finish: polished-titanium
Item No.: PCTBC 125
attribute_pa_color_finish: polished-chrome
Qualifies For
The sleek design of the PROTOP makes it ideal for finishing the vertical edges of tiled kitchen countertops, customer service counters and steps. Made from wear resistant anodized aluminum, the PROTOP not only protects the edges of the tile from impact damage but also covers the exposed substrate edge under the tile 1 13/16" (46 mm) in height. Matching inside and outside corners are available for ease of installation. External and internal angles at 90° and Available in silver anodized aluminum and polished titanium. The PROTOP is available in satin silver, polished silver and polished Titanium anodized aluminum finishes.
Countertop trims are big right now, and among them, aluminum ones are the most purchased. While there are numerous other options, and those are pretty good themselves, when it comes to aluminum countertop trim, homeowners are downright partial. Now that's not for nothing. Aluminum countertop edge trims have a lot to offer that puts them in a place of advantage to the buyers. If you are debating between buying steel and aluminum trims, then here is some information that will help you come to a decision.
Below are some reasons why aluminum countertop trims are getting ahead of the rest in the race.
Attractive
The first thing about aluminum trims, and no one really expects it, is that they are attractive. When you say aluminum, fancy is not the first thing that comes to mind. But these trims have reset that reputation for good. These trims have a great aesthetic profile, and no matter the design, they make the most perfect way to finish a countertop. The best thing about an aluminum countertop edge trim is that it blends effortlessly with any kind of countertops, especially with the tiled ones. The edges meet smoothly without any seams or misalignments.
Heavy-Duty
You probably know this, but aluminum counter tops are very durable. Made of good-quality aluminum, these trims run for years without any signs of falling apart. The best trims are made of anodized aluminum which are known to last longer than the regular kinds. These trims do a great job saving the corners and edges of the countertops from impacts which are very common when working in the kitchen. So, if you are looking for a heavy-duty trim to cover up your countertop's exposed sides from any kinds of damages, go for aluminum with your eyes closed.
Good Coverage
One thing that aluminum trims beat most other types in is coverage. With a good quality aluminum trim, you can cover up the inside and outside edges and corners of your counter top. That's like wrapping the vulnerable exposed parts of your countertops with something hardy. That done, you will not have anything to worry about your kitchen countertops for years.
Easily Installable
Last but not the least, aluminum countertop edging is the best option to choose if ease of installation is a concern. Whether you are a DIYer or just someone who likes to use things for home that do not involve complicated installation, these trims fit the bill most perfectly.
Tile Pro Depot is an online store for tile and stone installation goods. Delivering products all over the continental US (we sell the vast majority of our products outside of CT) the store is one of the most recognized sellers of this kind of goods. Tile Pro Depot brings to you a colossal stock of goods from brands of the likes of Blanke and Laticrete. Moderately priced, the products have availability all-round the year. Grouts, sealants, trims, mats, its product line is endless. Tile Pro Depot ships its goods to buyers across the US and offers standard two-day shipping in the Northeast.
Attractive profile for finishing tiled countertop edges
Covers exposed substrate edge up to 1 13/16" (46mm)
Durable anodized aluminum protects the tile edges from impact
Inside and outside corners available for ease of installation
Available in Satin Silver, Polished Silver and Polished Titanium finishes