When installing tile there are a variety of different adhesives you can use.
You can use mastic (a latex or solvent based adhesive that cures through evaporation), thinset (a combination of sand, Portland cement, lime, and other materials that are then mixed with water) and epoxy (a glue that cures through chemical interaction.)
Thinset is the most widely used adhesive in residential tile installs, but epoxy adhesives have their own rightful place in tile installs, too. They're typically a two to three-part product that is mixed together. The reaction between the products forms a stiff and thick substance that when cured becomes permanent. Epoxy adheres to a wide variety of materials, and it's incredibly chemical and heat resistant, as well as water resistant, which makes it perfect for a number of applications.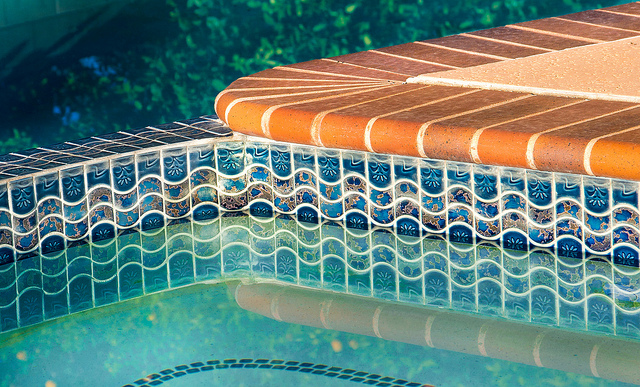 Epoxy can be used in regular, residential tile installations if you prefer it. But it can be a bit tricky to work with if you don't have a lot of experience with it. Since it's so permanent, it's nearly impossible to remove, which is great for the backs of tiles, but not so great if you accidentally get it on the front of the tile – so take great care.
Epoxy is typically used in exterior applications that need extra reinforcement or extra water resistance. Swimming pools, hot tubs, outdoor showers, barbecues, and certain types of stone and glass tiles benefit greatly from using epoxy adhesives, like green marble. Green marble flakes when it comes into contact with a wet mortar, so epoxy is the best solution. Some manufacturers also require epoxy for their product, so always be sure to read the instructions on mortar type before beginning an installation.
At Tile Pro Depot, we have a variety of epoxy adhesives, glues, and grouts to suit every tiling job. Here are some of the epoxy products we carry:
Laticrete SPECTRALOCK PRO PREMIUM Grout
This grout is used for ceramic tile, glass tile, and stone installations. It is stain proof, inhibits stain-causing mold and mildew growth, and comes in 40 different colors. This grout is ideal for installation in wide temperature ranges.
Laticrete SPECTRALOCK 2000 IG Commercial Unit
This commercial grout is perfect for industrial and commercial food processing applications. It's also great for dairies, breweries, veterinary hospitals, and commercial kitchens. It has maximum physical strength, is fast curing, and is ready for traffic in 12 hours.
Laticrete LATAPOXY 310 RAPID STONE ADHESIVE
This rapid stone adhesive is the perfect product to secure permanent bonds for stone on vertical surfaces. It is great for both interior and exterior applications, and has a double permanent bond that won't deteriorate over time.
Laticrete LATAPOXY 300 ADHESIVE
This adhesive is great for bonding moisture sensitive marble and agglomerate tiles. It's also perfect for resin backed tile and mesh mounted glass mosaics. It's non staining on white colored marble, and is water cleanable.
These products are just a sampling of what Tile Pro Depot has to offer. We also carry epoxy specific grout floats and sponges.
Visit our website to place your epoxy adhesive order and to view our wide selection of tile installation products.
If you have any questions, feel free to contact us online or by phone at 844.751.2625.